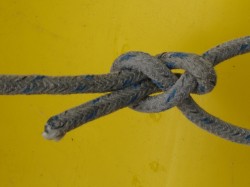 The Sailing Center relies heavily on the help of our dedicated group of volunteers, both during our busy summer season and during the winter months. Volunteers help out with everything from boat repair to social marketing to staffing outreach events–they're central to the day to day operations of the CSC. Our fabulous volunteer Sue G. helped out with the Sailing Center table at ECHO's Winter Festival, and had the following reflections to share:
Had a blast at Echo today. Lots and lots of families came to the table! Gave out lots of posters, kids liked coloring, and I showed kids/adults how to tie square knots, fastening to a cleat, clove hitches, and coiling a rope. (Glad you had the knot book there as it gave me a chance to look at them and pick out some good ones to demo).
Lots of questions about programs for kids…so the 2011 program schedule on back of poster was so helpful and the small program outline was great too! (Of course, the choc. candy was a hit too!) All ages loved trying to tie the knots and they were able to try it at least several times….I taught many Dads how to tie a clove hitch while their kids were coloring, and the Dads went away feeling very good about learning something they can use at home or for boating…
It was nice of Jen to stop by to check on me. Feedback from working the table…buy Crayola crayons, they don't break so easily. We needed more coloring papers… The papers that asked the parts of the boat was great for some kids. One boy (age 7) that went to camp in 2010 was so proud of himself when he knew all the parts of the boat. His mom was equally proud of him also, and it showed that he retained what he had learned from the summer session (totally cool!) Other kids that didn't know the parts of the boat enjoyed learning something new! (Parents liked this too!)
This was totally FUN today!
Volunteers like Sue don't just help us fill our programs and reach as many community members as possible. They also give us crucial feedback to help us improve our outreach efforts, programs, publications, and events. Thanks to Sue's help at this event, we reached a ton of future Lake Champlain enthusiasts, and her detailed feedback will allow us to improve our outreach strategies in the future. We mean it when we say it: we couldn't do it without the help of our volunteers!
---
Leave a Reply