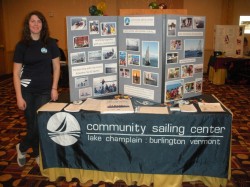 The VT Kid's Day Fair was a great way for people to come explore many different camps and children's programs in the greater Burlington and Vermont area.  Even though we were surrounded by the Girl Scouts, horse camps, sleep away camps for boys and girls, mountain biking camps and all their requisite candies and cookies, we had something special and different to offer: sailing camp right here in Burlington.  People rounded the corner to our table and let out cries of excitement over a new and exciting opportunity they could partake in.  Program posters with camp offerings were passed out in abundance, stickers were worn by many eager kids and candy was eaten by all.  But the best part was getting to talk to new parents and kids who seemed thrilled at the possibility of spending some time this summer sailing on Lake Champlain.  Explaining all the cool summer programs from Guppies and Level One, up to our new Race Program–made me wish I could be a camper again.  Children and parents alike ooh-ed and ahh-ed over our multi-activity camp options as well.  A lot of attention was paid to Skateboarding and Sailing, Tennis and Sailing and especially our new Cooking and Sailing camp, offered in conjunction with Healthy Living.  The day was short but successful.  We talked to a lot of excited, new, potential sailors and even some parents who wished they could come down to summer camp too! Everyone's looking forward to another exciting summer at the Sailing Center and it'll be here sooner than you think!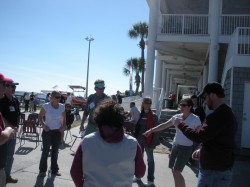 Florida: some say it's "heaven's waiting room" but for sailing enthusiasts it's not a waiting room–it's a playground! Two weeks ago Executive Director Kate Neubauer and I attended US Sailing's National Sailing Programs Symposium (NSPS). At NSPS each year, sailors, program directors, and others get together for a series of presentations, panels, keynote speakers, and boat demonstrations. This year was especially exciting because I did a presentation and a demonstration! The Community Sailing Center has been incorporating environmental education lessons into our sailing curriculum for the past 3 years. We teamed up with Sailors for the Seas (MA) and The Waterfront Center (NY) to introduce the different ways that you can integrate ecology into the sport of sailing. In addition to presenting specific lesson topics and organizational tools, we also demonstrated two of our most-used activities while at the Clearwater Yacht Club. Teaching children can be challenging, but let me tell you, adults are a whole different can of worms. While playing a tag game outside that involved the varying use of water in a Vermont town over the last 300 years, adults were sabotaging one another left and right. However, in the end I think everyone understood the activity and had fun competing against each other. Each year, as it gets brutally cold in Vermont and there is so much snow with no place to put it, we head to a warmer location to collaborate with all different folks surrounding the sport of sailing; a whole new world of ideas opens up while attending NSPS. Can't wait until next year!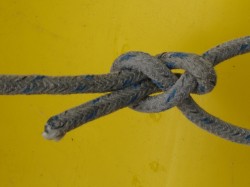 The Sailing Center relies heavily on the help of our dedicated group of volunteers, both during our busy summer season and during the winter months. Volunteers help out with everything from boat repair to social marketing to staffing outreach events–they're central to the day to day operations of the CSC. Our fabulous volunteer Sue G. helped out with the Sailing Center table at ECHO's Winter Festival, and had the following reflections to share:
Had a blast at Echo today. Lots and lots of families came to the table! Gave out lots of posters, kids liked coloring, and I showed kids/adults how to tie square knots, fastening to a cleat, clove hitches, and coiling a rope. (Glad you had the knot book there as it gave me a chance to look at them and pick out some good ones to demo).
Lots of questions about programs for kids…so the 2011 program schedule on back of poster was so helpful and the small program outline was great too! (Of course, the choc. candy was a hit too!) All ages loved trying to tie the knots and they were able to try it at least several times….I taught many Dads how to tie a clove hitch while their kids were coloring, and the Dads went away feeling very good about learning something they can use at home or for boating…
It was nice of Jen to stop by to check on me. Feedback from working the table…buy Crayola crayons, they don't break so easily. We needed more coloring papers… The papers that asked the parts of the boat was great for some kids. One boy (age 7) that went to camp in 2010 was so proud of himself when he knew all the parts of the boat. His mom was equally proud of him also, and it showed that he retained what he had learned from the summer session (totally cool!) Other kids that didn't know the parts of the boat enjoyed learning something new! (Parents liked this too!)
This was totally FUN today!
Volunteers like Sue don't just help us fill our programs and reach as many community members as possible. They also give us crucial feedback to help us improve our outreach efforts, programs, publications, and events. Thanks to Sue's help at this event, we reached a ton of future Lake Champlain enthusiasts, and her detailed feedback will allow us to improve our outreach strategies in the future. We mean it when we say it: we couldn't do it without the help of our volunteers!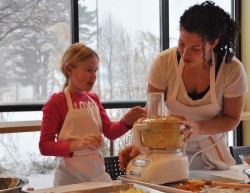 In preparation for the coming season, we've asked some of our partnering organizations to guest blog about multi-activity camps that they're helping to put on. This week's guest is Healthy Living's Nina Lesser-Goldsmith, who will be working with our instructors here at the CSC to put on an awesome camp dedicated to two of Nina's favorite activities: cooking and sailing. Keep reading to learn more about this neat camp!
I've sailed on Lake Champlain all my life and the thought of blending two of my big passions (sailing and cooking) is on my mind! Two years ago, when I started the Healthy Living Learning Center, I never expected to team with the Sailing Center, but here we are, planning a totally cool camp for the coming summer called Cooking and Sailing Camp. When I was a kid I was a huge camp go-er, so I'm extra excited to offer this camp to the kids of our community!

At Healthy Living we care so much about the health of our community's kids and creating a fun environment for kids to learn about cooking and eating. We regularly run cooking classes for kids of all ages, plus we sponsor a team of kids who represent us at the annual Junior Iron Chef Competition. Lucky kids who attend our camp will spend the morning at the Healthy Living Learning Center working as a team to put together a healthy and delicious lunch for themselves, eat it and then head on down to the waterfront for an afternoon of sailing lessons. Every day we'll have a new theme, from Italian to Mexican to Asian. As they work through an interesting lesson plan, they'll also learn some valuable basic cooking skills like how to hold a knife, how to prep ingredients, how to read and make sense of a recipe, and more.
The idea is that as we go along during the first four days, kids will come up with their own concept for a cookout. And on our last day, we'll invite parents to the Sailing Center for a spectacular cookout prepared by the kids! Hope to see you there.
Sound neat? We sure think so! Camp registration is open and you can sign up here. See you this summer!

Pretty awesome video–with some great footage of the Sailing Center! Yep, Olympic level sailors love Burlington's Community Sailing Center! And the great footage of Lake Champlain has us dreaming of next season…
Sailor Profile – Andy Horton from Amory Ross on Vimeo.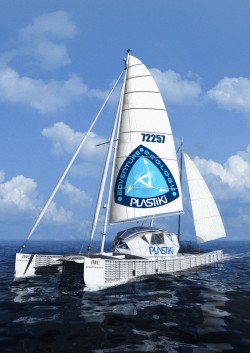 On July 26, 2010, the Plastiki, a 60-foot catamaran made from 12,500 plastic bottles and other reclaimed plastics, all of which are held together with biodegradable adhesive so that the boat's materials can eventually be recycled or re-purposed, finished her 12,000 mile voyage across the Pacific, traveling from San Francisco to Sydney, Australia. The boat, like her namesake the Kontiki (a vessel built in 1947 with traditional methods and used to demonstrate the seafaring potential of specific pre-industrial peoples), was purpose built for its expedition in order to call attention to the tremendous amount of plastic pollution present in our oceans. Her course was set through the Great Pacific Garbage Patch, a collection of cast-off plastic debris brought together by converging currents in an area between California and Hawaii, generally estimated to be the size of Texas, and, according the Plastiki Expedition's website, responsible for the deaths of 1 million sea birds and 100,000 marine mammals and turtles annually. The boat's recycled, recyclable construction serves as a reminder that the creation of waste, of products with a definite landfill-focused end, does not have to be inevitable.
How are we on Lake Champlain to react to the gyre of trash that swirls in the Pacific? The Garbage Patch is certainly nowhere near close to home geographically and, ideologically, the concept of animals struggling amidst a cloud of plastic particles far from the sight of land is admittedly more abstract than the many more immediate challenges we face daily. Floating bottles hundreds of miles out to sea? What's the real concern? Regretfully, whether we're conscious of it or not, the garbage in this patch is slowly changing from large pieces inaccessible to wildlife into smaller pieces on which animals can fatally choke or become entangled. These pieces then further deteriorate into microscopic particles, many of which wind up being eaten, sucked in, or otherwise consumed by fish, plankton, and birds. These toxins affect not only the health of the organisms that swim in them but, once these poisoned creatures end up at the grocery store, affect ourselves as well. In this way, even the least tree-hugging, animal-loving among us is harmed by the vast quantities of chemical and particulate pollution present in our oceans – what has historically been a great source of food grows more poisoned and less full of life by the day.
These very same challenges are found in our own community, albeit on a reduced scale. Few days go by that a bottle, cup, or bait container isn't found floating in the lake. Here, with no swirling current to condense them, the garbage tends towards to the shore where proactive individuals can remove it. Still, these and other contaminants manage to take their toll. Once these materials, and other more chemical pollutants, are present in the water, they accumulate in everything that lives within it, growing in concentration in proportion to the organism's place in the food chain. The problem is severe enough that the Vermont Department of Health publishes suggested safety limits for human consumption of local fish, crossing some species completely off the list.
Although the challenges we face are large and the momentum behind their causes substantial, I'm encouraged to see the campers at the Sailing Center this summer engaging with their environment in a positive and personal way. Can having a personal relationship with the local environment make far off ecological disasters less abstract? Can having spent a summer playing on a lake, relying on wind for power, help to forge a generation with a stronger sense of belonging within, rather than being separate from, the natural world? There are no easy answers but, seeing week after week of parents bringing their kids to play on the lake, to learn first-hand about the environment of their home town, enacting a concept of recreation that relies less on material consumption and more on playful adventure with new friends, I'm hopeful that we can soon begin to build some solutions.
-Nick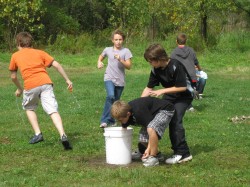 Though I still consider myself pretty new to life at the Sailing Center, I can categorically say that one of my top three favorite things about being here is seeing school groups come by for school day programs. We tailor curriculum to the students' and teachers' needs, and make sure that the kids are prepared both to come to the Sailing Center for a day on the lake and also to continue learning about the ecology of Lake Champlain when they head back to the classroom. We know from experience that students who participate in our day programs learn a lot, and we also know that they have a ton of fun. This morning, I watched nine youngsters leap out of two volunteer parents' vans, romping their way across the Sailing Center parking lot, thrilled about their day out of the classroom and on the lake. As I stole away from my work in the office to see what they were up to, I witnessed a chorus of students enthusiastically answering instructor Chris' questions–"The CRUST! We're standing on the Earth's CRUST!" and "A mountain lake! A mountain lake!" Who knew that early morning science lessons could be so exciting? The enthusiasm was contagious–even though the staff here is quickly settling in for a long and productive winter, our fall school day programs bring a little of that summer camp excitement back to life at the Sailing Center.
-Lesley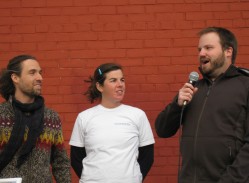 This past week, we here at the Sailing Center had the pleasure of hosting our annual Volunteer and Community Partner Recognition Event. It was an inspiring evening that really brought home the incredible work that our volunteers and partners have put in this season. Though the weather was a little on the blustery side to start, it calmed down just in time for the presentations to get started–the few drops of rain that hit us that afternoon cleared up and left us with nothing but a gorgeous Lake Champlain sunset. As we merrily munched on donated Boloco burritos, several of our partners and volunteers spoke about their experiences working with the CSC over the course of the 2010 season. Volunteers Wyatt and Sue both described their experiences in the Mates program, in which CSC users agree to volunteer regularly throughout the season in exchange for full access to our facilities. Education Director Jen Guimaraes presented awards to several of our community partners, including two volunteer WAVES initiative speakers, Vic Izzo and Ted Hart, who came in this summer to do lunchtime science lessons with our campers. Our presentations were rounded out with a keynote address by Yves Bradley of Pomerleau Real Estate, who spoke to the significance of civic engagement in our community and applauded the dedication of the Sailing Center's volunteers.
As a relatively new member of the Sailing Center team, it was amazing to see so many of our supporters in one place and to learn about the ways that they value and support this community. Hearing about the impact that the volunteer program has had on so many of our users, and listening to stories about the way that the Sailing Center's partnerships with local nonprofits has supported their work, brought home the incredible power that our programs have. As the sun set and the event drew to a close, I felt proud both of the Sailing Center's work and also of the countless hours that our volunteers and partners have put in to realize our mission.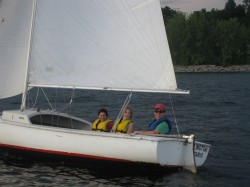 Moving by sail is carbon neutral
We're not talking about buying offsets, sequestering harmful gases, or using risky nuclear power. A hoisted sail moves you through space using energy already present and accessible in the air around you. No engines need to start, no electricity needs to be pumped in, yet you and your friends can still race around a lake, sail to the ocean, or circumnavigate the globe. Sure, it takes some patience on low wind days. But what's so bad about drifting slowly through sun?
Sailing can be relatively laziness
Did you know sailing is an Olympic sport? And that it frequently involves periods of sitting and waiting while the wind does the work? Just try that technique in the biathlon. Besides, in what other sport can you be valued just for having weight? On a heeling boat, the simple act of moving your personal mass to the windward side can do a great deal.
People will want to be your friend
There are far more people who would like to sail than people who actually do. As someone who once counted himself among the former, I know the pangs of longing, the hopes of befriending a mysterious stranger who would share his knowledge of currents and wind, take me on his boat where we'd set a course for distant lands, looking into the mist with a stoic gaze and maybe one of those red Life Aquatic hats. Mention that you sail and are looking for new people to take out, and you're nearly guaranteed a few phone numbers. To placate the doubters I'll mention that, now a sailor myself, I've been propositioned by any number of new acquaintances looking to sail, the most memorable of which was the street performer who played a homemade percussion instrument, by which I mean that he hit the sidewalk with a stick to which he had fastened a collection of bells, beads, and tambourines. Sailing has its challenges but finding crew isn't one of them.
High potential for plush adventure
By what other non-motorized means can you travel beyond the bounds of civilization while retaining the ability to easily live in relative luxury? Compared to backpackers, kayakers, or other outdoor travelers, I suspect sailors carry a far larger quantity of books, non-dehydrated food, and their beverages of choice. Even on a modestly sized cruising boat, it's possible to sleep on a mattress, cook on a stove, and take care of more personal business in a head (what the landlubbers among us call a bathroom).
Participating in a long-standing human tradition
Although there's no definitive date for the invention of the sailboat, it can be generally agreed that people have been moving over water by wind power for thousands of years. Were it not for sailing, how often would you participate in something practiced continuously since the construction of the pyramids? No matter how vintage your threads, how original your vinyl collection, or how outdated your cell phone, sailing trumps all the rest in the old school showdown. The modern sailing lexicon offers a few reminders of the sport's connection to an earlier time. In what other sport could you legitimately yell "jibe, ho!" or secure something using a "shackle" or refer to a sailor stalled into the wind, unable to move, as being stuck "in irons?" In the case of these last two terms, we're reminded not only that sailing comes to us from times long past, but that times long past were cruel, had more ways to chain you up, and are something to be glad you don't live in.
-Nick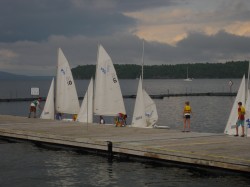 The end of the summer season here at the Lake Champlain Community Sailing Center was amazing. One of the highlights for me was the time I spent working with the Vermont Adaptive Ski and Sports program for several days. It was an incredibly rewarding experience. Sailing with kids and adults of greatly different backgrounds, experiences, and walks of life gave me the opportunity to learn a lot, perhaps most significantly about the profound importance of programs like Vermont Adaptive for families who have special or different needs. Sailing provides an opportunity not only to engage in a sport, but also to be social (and most sailors I know are very social people). For many sailors, getting out on the water is an opportunity to hang out with old friends and meet new acquaintances. After enjoying a wonderful afternoon sail in a great breeze, I was alone de-rigging the boat on the mooring and couldn't help but feel good about being part of such a great program. The Community Sailing Center really does a great job getting as many members of our community out sailing as possible. After my first summer here, I'm truly astonished at the number of people that come down to the waterfront and get out on Lake Champlain. So feeling this way while de-rigging, I could help but take a little extra care for the boat, in hopes that the next person to step aboard can see it and will take the same care when they return from their sail.
-Nick