The Community Sailing Center is a vital hub on the shores of Lake Champlain where community members and visitors of Burlington, Vermont gather to play on the lake together. We've got something here for everyone regardless of age, ability, or income.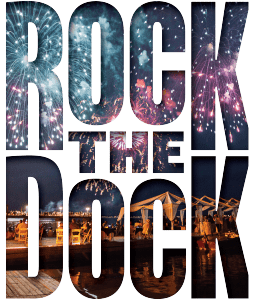 Save the date for the Ninth Annual Rock the Dock Benefit – Monday, July 3rd from 6:30 to 11:00 pm!
Join over 350 community members for a front row seat to the Burlington Waterfront fireworks – and for a great cause! Every ticket sold ensures that people of all ages have the opportunity to get off the dock and onto Lake Champlain – discovering the lake from a new perspective.
Please join us for a night of great local food and drinks, music, dancing, fireworks, and giving back to your community during Burlington's spectacular July 3rd fireworks show. Rain or shine, Rock the Dock never disappoints, and this year will be no exception! It sells out every year, so get your tickets now!
You can also support the scholarship fund by buying raffle tickets for an exquisite diamond anchor pendant again this year! Raffle tickets are available HERE!
Check out the Facebook Event Page to share your stories or photos from previous years!
Rock the Dock in 2017!
Join the conversation