Camps and schedules are TBD for Summer 2023. Stay tuned for dates to come in Winter 2023.  Please email info@communitysailingcenter.org or call us at 802-864-2499 for questions.
Summer is all about fun, new friends, and exciting adventures.
Community Sailing Center summer camps are designed to teach kids ages 6 through 17 the safety, skill, and joy involved in the life-long sport of sailing. Organized by age group and led by certified instructors, camp options include sailing-only and multi-activity camps that blend sailing and another sport or hobby. Week-long and two week camps take place throughout the summer with several sessions to choose from. The Community Sailing Center offers early drop-off/late pickup options to accommodate each family's needs.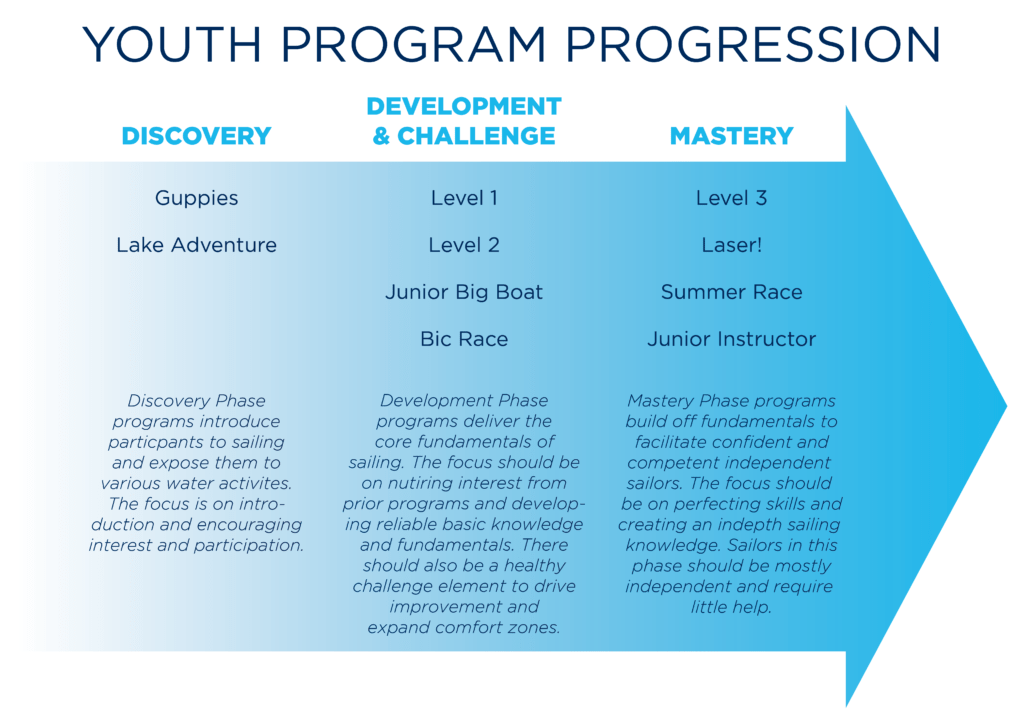 Sailing Camps
Camp COVID-19 Policies, Procedures and FAQ's
Little Guppies: Full and Half Day
This week will be filled with sailing basics and age-appropriate outdoor ecology. Campers will engage in hands-on activities and sail aboard our keelboats. Full day, morning only and afternoon only options available. Ages 6-7.
Level I
Campers will learn the basics of rigging, points of sail, sailing maneuvers, safety and recovery in a safe, fun environment designed to promote comfort and independence in the boat. Ages 8-10 and 11-15.
Level II
Ideal for Level I graduates or sailors who are comfortable with the basics, this two-week camp will consolidate existing skills and teach new ones during longer sails around Burlington Bay. Ages 9-11 and 12-16.
Level III
Building on the foundations learned in Level I and II, this two-week camp will refine boat-handling skills and introduce advanced equipment. Ages 12-16.

Junior Big Boat Sailing Program
Apply the skills learned in Level I & II to a new challenge – big boat sailing! Sailors will spend the week on board a larger keelboat learning the new crew roles and skipper responsibilities that go beyond those needed to sail small boats. Ages 12-16.
Laser!
Learn to sail solo! During this program, sailors will learn the ins and outs of Laser sailing and continue to develop their on the water skills in a new vessel. Ages 12-16.
Racing and Performance Sailing
High School and Middle School sailing teams, summer race teams and more!
Check out our Performance Sailing page for details.
Junior Instructor Training
Ready to take your sailing experience to the next level? Then become a Junior Instructor and let the CSC help lay the foundation of your professional sailing career! Junior Instructors help facilitate the day to day activities of youth camp at the CSC. Please see our Junior Instructor Program Page for more details. Ages 15-18
Additional Opportunities
Early Drop Off
Come to camp early and we will start all the fun before camp begins. Can be added to qualifying camps when you register. Ages 8 and up.
Late Pickup
Stay at camp late to continue the day's fun. Can be added to qualifying camps when you register. Ages 8 and up.
Saturday Open Sail
Each Saturday of the summer season, campers can use our dinghy boats for free! A sailing instructor oversees the safe use of the boats. Join fellow students, meet new friends, and build sailing skills by having fun and spending time on the water. Campers must have completed at least one full week of Level I, II, or III prior to using the boats. Ages 8-16.
Saturdays, 10am-1pm
Multi Activity Camps
Camp COVID-19 Policies, Procedures and FAQ's
Lake Adventure
This program explores Lake Champlain from a variety of watercraft, including canoes, kayaks, and paddleboards. Campers enjoy daily excursions to nearby destinations like Lone Rock and sailing adventures around Burlington Bay. Ages 8-10 and 11-15.
Gumby Guppies
Yoga and Sailing
Our Gumby Guppies will enjoy a dynamic day of yoga and sailing. In partnership with GROW Prenatal & Family Center Yoga, this camp will begin with the basics of yoga both on land and out on SUPs. After waking their bodies up with yoga, the campers will take to the water and learn the basics of sailing on our 23-foot keelboats. Ages 6-7
Yogirls and Sailing
All Girls Yoga and Sailing
Through yoga and sailing, our campers will connect to both the land and the lake environments as they practice balance, gain strength and become more flexible in the outdoors. Campers will start their day with yoga both on land and on SUPs and learn the basics of sailing in the afternoon.   Ages 8-10.
Pirates of the Champlain
Sailing and Stage Combat
Prepare to board, landlubbers! This camp will teach ye all there is to know to be a fearsome pirate! Learn swordplay and hand-to-hand combat; walk and talk like a pirate; Mayhaps even a treasure hunt. Afternoons are spent learning the basics of sailing, knot tying and how to board a vessel to plunder. Ages 8-10.
Women in Science and Sailing NEW!
(Ages 11-15) Femme-identifying STEM and Sailing 
Take science to the lake with this Community Sailing Center and Lake Champlain Sea Grant – UVM Extension partner camp for girls, trans-women, and non-binary femme-identifying youth. Spend the mornings with the basics of sailing at the Sailing Center followed by afternoons in the lab or aboard a research vessel gathering data and learning about the Lake Champlain watershed from women scientists. Ages 11-15.
Waterfront Adventures
Sailing Camp
Intro to Sailing
Come recreate on the dynamic Burlington waterfront this summer with this week long half-day sailing camp. Campers will spend afternoons enjoying sailing and paddlesports on Lake Champlain. Register for a corresponding half-day morning camp like Skateboarding and make a full day of it! Ages 8-15. For Waterfront Adventure or Sailing Camp registration information please contact Burlington Parks and Recreation