CSC McConnell Scholarship
This scholarship means everyone can afford to play on the lake.
Mike McConnell's love for the lake inspired the scholarship fund in his name to support access to Lake Champlain for anyone in our community regardless of age, ability, race, religion, or economic circumstances.
Scholarship application process:
Register for your desired class and submit a $100 deposit.  You can register online or by calling 802-864-2499.  Please note that you are requesting a scholarship at checkout.
Fill out and return the McConnell Scholarship Request Form.  Forms may be mailed to the address listed below, emailed or dropped off at the Sailing Center during our hours of operation.
Scholarship decisions will be made within 10 days of submitting a complete application.
Scholarship rules and guidelines:
The CSC is only able to provide partial scholarships.
The scholarship fund is limited and awards are given on a first come, first serve basis.
Scholarships must be submitted no later than one week prior to the class start date.
Scholarship mailing address:
Community Sailing Center
Attn: McConnell Scholarship Fund
P.O. Box 64818
Burlington, Vermont 05406
If you have any questions about the scholarship program please email or call our Office Manager John Nagle at 802-864-2499
Sailing Diversity Access (SDA) Initiative
2022 will be CSC's second year of pr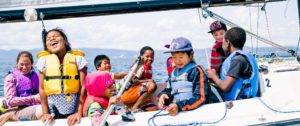 oudly pioneering the initiative to provide campers between 11-15 who identify as BIPOC  a 100% fully paid and supported summer camp experience of up to 4 weeks.  Through this initiative we aim to create new summer opportunities and recreation options for kids who come from diverse communities and families. This initiative is structured to support up to 40 camp weeks per year, so be sure to inquire early!
Importantly, this opportunity does not end after this summer!  The Community Sailing Center promises to provide full support to participants for up to 4 years for those who decide to continue their growth as sailors. This pathway goes from learning to sail, to racing in high school, to becoming a junior instructor.
Application process:
If you are interested in registering or have any additional questions, mention the "Sailing Diversity Access Scholarship" and feel free to call 802-864-2499 or email info@communitysailingcenter.org.
SDA beneficiaries will be awarded: 
Up to four weeks of summer programming completely cost free
Availability for early drop-off (before 9:00 am) and late pick-up (after 4:00 pm)
Up to $120 in transportation stipends to support all participants travel to and from our facility
Additional information is available below, just select your language!
English | عربي |Arabic | Français|French | नेपाली|Nepali | Soomaali|Somali | Kiswahili|Swahili | Tiếng Việt|Vietnamese
Sailing Diversity Access FAQs