2017 Water Works Fair
Saturday, July 29 at the Burlington Waterfront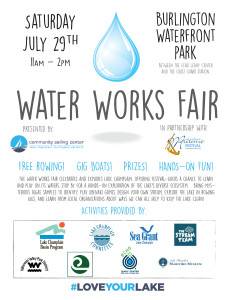 As part of Lake Champlain Maritime Festival, Water Works Fair offers opportunities to explore the ecology and experience of Vermont's greatest natural resource with hands-on educational activities and fun for all ages!
Learn from many organizations, play by the lake, and enter to win prizes!
Check out our Facebook Event page for more info!
Stand Up For the Lake
Saturday August 5 at the Community Sailing Center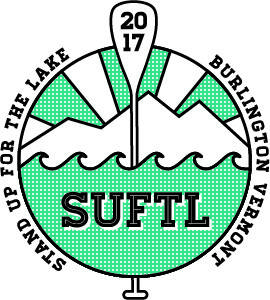 Stand Up for the Lake is the only WPA-sanctioned paddle boarding competition in Vermont!  Come play on the lake and join in the fun by participating in our recreational 3 mile race or 6 mile elite race.  Fabulous prizes, awards, and refreshments await you on the waterfront after the race.
For more information, please visit standupforthelake.com, or contact Adam Deslauriers at (802)864-4922 or Adam@communitysailingcenter.org.
Women in Wind Summer Soiree
Thursday, August 10 at the Community Sailing Center
In partnership with the Greater Burlington Women's Forum  —  See the Women in Wind page for details.
Sailabration!
Saturday, August 19 at the Community Sailing Center
As the season comes to a close, we invite you to join us for a fun afternoon of sailing and paddling to celebrate the commitment of our donors, friends, and families to the mission of the Community Sailing Center.  Stick around for snacks and our annual recognition celebration.
Women in Wind Summer Send-Off
Saturday, September 9 at the Community Sailing Center
In partnership with SHEJUMPS, this is a great opportunity to meet and network with other active, dynamic women from around the area while getting some time on the water while the weather and the water are both warm and beautiful!  (Wow!  What alliteration!)