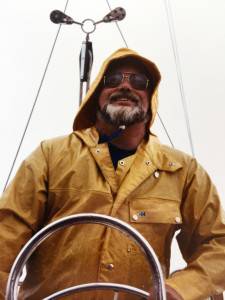 The Douglas M. Taylor Memorial Fund enables boating education to children in the Lake Champlain region by promoting boating safety, encouragement, and appreciation of the sport of sailing while learning the history of Lake Champlain. Doug was an avid boater and lover of Lake Champlain, serving eight years as a volunteer instructor for the U.S. Power Squadron Public Boating Course and made many contributions to boating safety legislation as a member of the Winooski Valley Power Squadron, contributions for which he was formally recognized with a citation of excellence by N.T. Saunders, Rear Admiral, U.S. Coast Guard.
More than 1,200 individuals graduated during his years teaching the courses while countless others were positively impacted by his participation in boating safety education. Doug's family hopes that passing on his passion for sailing will encourage others to live life to it's fullest, love all people and celebrate every moment on a boat.
To make a donation into this fund:
On the 'Donate to the Community Center Sailing Center' page, navigate down the page to: 'Apply My Donation To' drop-down menu (see illustration below) and select 'Douglas M. Taylor Memorial Fund' to proceed further.