2021 Summer Phase Plan
The CSC is excited to that this year we will be able to host programs for folks of ALL ages! In order to operate safely, we are reopening our programs in phases. We are committed to maintaining safe opportunities for our community, and will continue to update this page as more information is made available.
Our plan is designed in accordance with the State's recommendations and the timeline of restrictions being lifted. It is subject to change depending on the number of cases in our community, the safety of our staff/participants, and the level of demand. Our team continues to closely monitor the following state or federal health agencies. 
If you have any questions or concerns please contact us via 802.864.2499 or info@communitysailingcenter.org.
Click the image below to expand.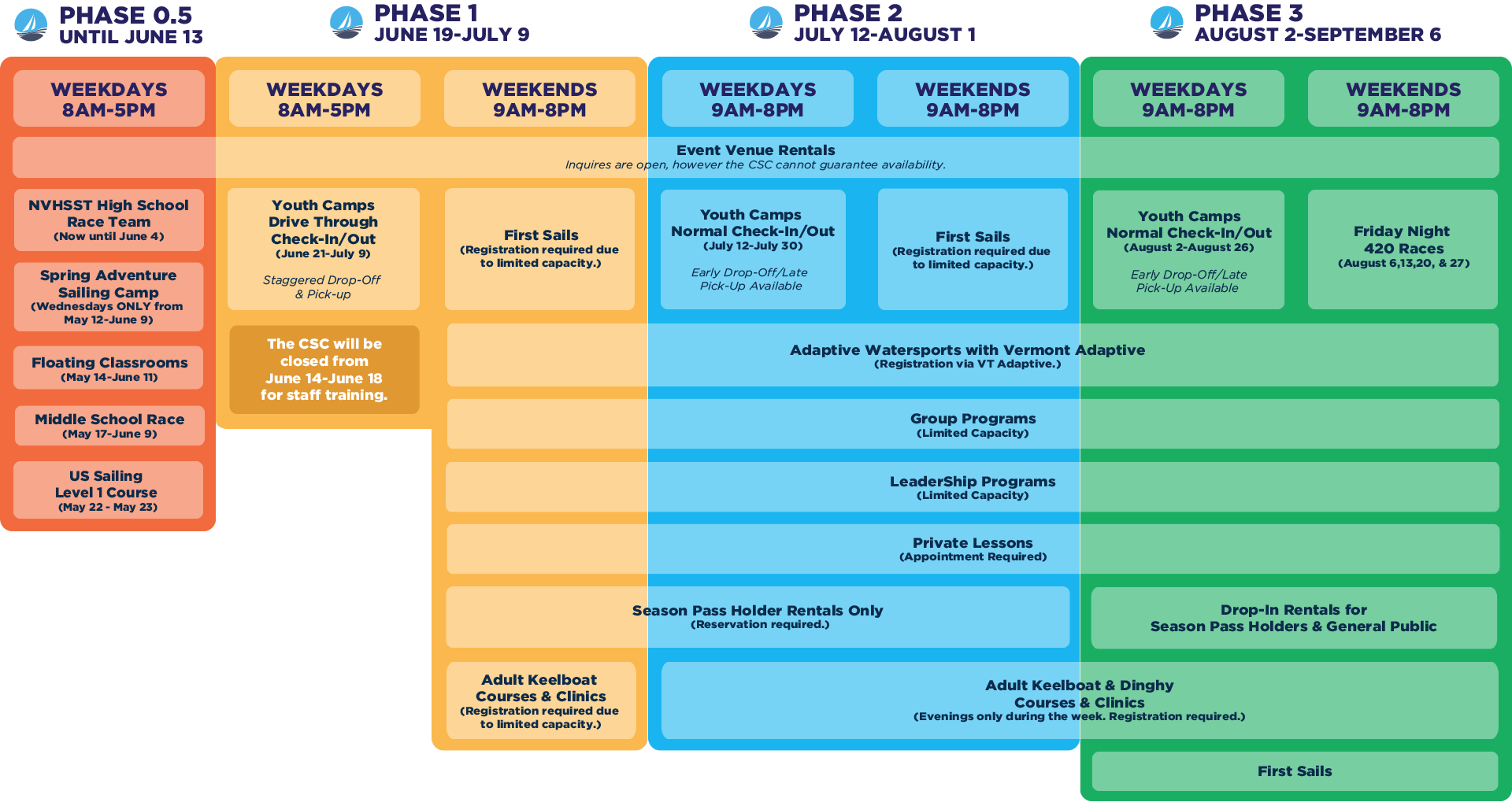 RENTALS & SEASON PASSES: Updated May 7, 2021
The CSC is excited to reopen our boat rental program for summer 2021. Sailboats, kayaks, canoes, or paddleboards rentals will be available at a limited capacity according to our Phased Plan. Season pass holders will get exclusive access to the boat rental program during Phases 1-2! Drop-in hourly rentals for the general public will resume in Phase 3. Check out our Rentals & Season Passes for more information on purchasing passes, hours of availability, reservation, safety measures, and pricing.
ADULT PROGRAMS: Updated May 7, 2021
A limited number of adult courses and clinics will be offered this summer. During Phase 1 starting June 19th, they will be offered on weekends. After the CSC moves into Phase 2 on July 12th, programs will be available on select weekdays and weekends.
More information and registration will be available on our website in mid-May. You can subscribe to our email newsletter for early bird access to the information and registration.
Sign up for our newsletter HERE!
YOUTH PROGRAMS: Updated May 7, 2021
The CSC will be once again offering summer camps this summer! We are currently abiding by the State of Vermont's protocols for safety measures relating to these programs, so our operations prioritizes both a fun and safe environment for our kids. Most of our camps are currently full and have waiting lists. Offerings are available on our website, but please note that we are currently only accepting information to our wait list. There is no guarantee that addition to the list will result in acceptance to the program.
If your camper identifies as BIPOC and is between ages of 11-15, we are excited to provide our Sailing Diversity Access Scholarship! Recipients get up to 4 weeks of camp 100% cost free. Learn more about the application and our other diversity initiatives HERE!
FREQUENTLY ASKED QUESTIONS
What safety measures are you using to prevent the spread of COVID?
The CSC is committed to following the safety protocols as defined by the Department of Health. This includes but is not limited to staggered pick-up and drop-off for families, daily health screenings and contact tracing. Rigorous full facilities clean once a week, and will increase the frequency based on the recommendations of the state.
What is your mask policy?
Our mask policy is based on the recommendations of the State of Vermont and the Department of Health. The mask policy will follow the phased plan.
Phase 0.5: Mask for all participants at all times.
Phase 1: Mask always for adults. Children are required to wear the masks indoors or on the dock unless on water.
Phase 2: Masks encouraged.
Phase 3: Masks encouraged.
The state policy changes "masks encouraged" after July 4th.  Why doesn't the CSC phase match up with the state's plan?
Our current plan is intentionally designed for our organization to be cautious, but assured in the transitions between phases. The week between the state's mandate change and the CSC's is for not only our staff's safety but also our participants.
What should I do in the event a participant or someone in their household gets sick?
If a camper or participant becomes ill for any reason during the hours of their program, the individual will be sent home as soon as possible. The parent or guardian of all youth participants will be contacted immediately. During the time the sick individual remains at the CSC, they will be kept away from other campers to avoid spread of the contagion. We ask that any participants exposed to a sick individual, please notify the CSC as soon as possible.
Will scholarships be made available for families who cannot afford the full cost?

 
At present, the Community Sailing Center is exploring grants from state, municipal and private sources to help fund the significant increased costs of running camps within the new DCF guidelines. Our plan is to use existing financial resources to absorb these expenses and not pass them on to families, thus maintaining the current prices for camp.  Should the Community Sailing Center be successful in our efforts to receive funding, we will do everything possible to meet demand for scholarship support. Do not hesitate to ask for financial assistance if you need it. We are hard at work to try and help. 
What is your refund policy?
Please give us 30 days' notice in order to secure a refund (excluding $100 non-refundable deposit) and open your space to another sailor. No refunds or credits will be issued within one month of any program. Tuition fees less $100 will be refunded with an approved medical excuse. The Community Sailing Center reserves the right to cancel programs with insufficient registration, safety or health concerns. In the event that occurs, the CSC provides refunds to all impacted participants. 
If you have any questions or concerns please contact us via 802.864.2499 or info@communitysailingcenter.org.